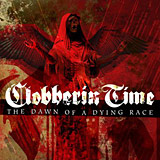 Clobberin Time
The Dawn Of A Dying Race
Released in 2006
Recorded, Mixed, Mastered
Germany
What the press has to say about The Dawn Of A Dying Race...
Terrorverlag - 06/2006
Einen richtigen Riecher hat man bei der Wahl des Knöpfchendrehers bewiesen. So hat Metal-Altmeister Andy Classen (HOLY MOSES) die Produktion von "The Dawn of a dying Race" übernommen und der Platte natürlich einen fetten Sound verpasst...
Green Hell Mailorder - 06/2006
Nun habe ich endlich also die CD dieser besagten Ruhrpott Kapelle erhalten und kann langsam die Begeisterung verstehen. Hochasozialster Ruhrpott Mosh mit oberfetter Andy Claasen (Holy Moses Fame, u.a. Krisiun, Neaera, Dew Scented, etc) Produktion, irgendwo zwischen Shattered Realm, Hatebreed und Fury Of Five, nur eben deutlich asozialer und mit den immer wieder eingeworfenen Gastvocals (End Of Days / SMA) nochmals ein Spur fetter als die Konkurrenz. Geiles Album, voll asozial!
xSebx.com - 06/2006
With a quick look into the comprehensive history of heavy music, one knows that there are three essentials in sounding real brutal: first and foremost a massive production, a good amount of audibly sincere wrath, and at least a little amount of musical variation. Clobberin Time have audibly gathered all the suffering, pain, despair and hatred to charge nine explosive songs, the Andy Classen production is solid enough to propel the songs, which keep the right balance between pummelling mosh parts and fast-forward tough-guy hardcore...
Bright Eyes - 06/2006
Jau, auch diese Truppe trägt den Labelnamen im Herzen und veröffentlicht ihr erstes Böse-Laune-Album, das voller Wut, Aggression und fetter metallischer Riffs ist. Der druckvolle Sound ist kein Wunder, hat ihn doch niemand anderes als Andy Classen im Stage One zusammen gezaubert...