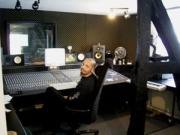 Are you looking to record your music in the Stage One Studio or are you just looking for a Mix- & Mastering Studio? Here in my, Andy Classen's, Stage One Studio you've hit the spot! As a producer with over 20 years of experience, I see it as my duty to record your music as perfectly according to your taste and style as possible. Together we will be working toward this goal and I will help you to get to the next level.
I offer:
Complete production of your music: You would like to record, mix and master your music professionally? With me you will get all that for a fair price. I've been an active musician (Holy Moses / Richthofen / Mondo Bizarre) and music producer / sound engineer for over 20 years and I've produced numerous albums, including many famous artists like Legion of the Damned, Belphegor, Rykers or Krisiun... (see discography).

The Stage One Studio is a one-person-enterprise, which means that I'm in charge of every single one of your notes from the beginning of recording until the mastering. Professional studio equipment and numerous instruments are at your command.

Contact me and I will send you an offer, it's worth it!
Mixing of your recorded material: You have recorded your music in another studio, at home or in your rehearsal room but you're in dire need of a decent mix? Send me the data files of your recording session and I'll give your songs real makeover! More information on file formats etc. can be found under Mixing & Mastering.
Mastering of your songs: I offer professional mastering for fair prices - I have a multitude of high-end mastering tool and year-long experience in mastering. Just ask! More information on file formats etc. can be found under Mixing & Mastering.
Drum-Editing / Retriggering: You've recorded your drums but you're not content with the timing or the sound (or both)? Send me your files and I'll take care of everything, in return you'll get drums that will blast you off your feet!
Guitar Re-Amping: You're not content with your guitar sound or you were only able to use one amp simulation because you weren't able to pump up the volume or you didn't have a decent amp? Send me your recordings and I'll hurry them through an amplifier / box / microphone / mixer and in return you'll get the most state-of-the-art sound you can imagine!
Production in external studios: "My home is my castle" - naturally I work most efficient in my own studio, but I am also available for productions in external studios / abroad on an individual basis. Just contact me and we can discuss details.
History
In 1990 I, Andy Classen, co-founder and guitarist of German cult thrash-outfit "Holy Moses", opened my Stage One Studio in Bühne, Germany.
As home-base for "West Virginia Records" I recorded and produced all label-bands at Stage One Studio, including Holy Moses, Warpath, Incubator, and many more.
In 1994 West Virgina Records closed it's doors and I became a full time producer at the Stage One Studio. Under my direction the Stage One Studio quickly gained a reputation as one of the best European adresses in Thrash-, Death-, Black Metal and Hardcore. Bands like Belphegor, Legion of the Damned, Dew Scented, Rykers, Krisiun, Graveworm, Disbelief, Die Apokalyptischen Reiter, Tankard, Final Breath, Criminal and Classens own Richthofen recorded their albums there. Labels like Nuclear Blast Records, Century Media Records, Osmose Records, Metal Blade, Gun Records, Armageddon Music, AFM Records, Massacre Records, Season of Mist etc. have their bands produced at Stage One Studio under my auspices.
I always enjoy to host a healthy mix of established acts alongside new and often unsigned underground bands at Stage One Studio. Kassel Hardcore outfit Ryker's recorded their self-financed 7inch debut in 1994 in just two days - the rest is legendary! With fair prices and free accommodation, every band has the chance to record its music at the Stage One Studio.