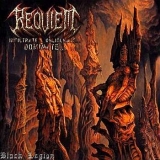 Requiem
Infiltrate... Obliterate... Dominate...
Released in 2009
Recorded, Mixed, Mastered
Switzerland
What the press has to say about Infiltrate... Obliterate... Dominate......
Powermetal - 07/2009
Dass es sich bei dem verheißungsvollen Namen REQUIEM um eine durchaus arbeitseifrige Schweizer Death-Metal-Combo handelt, ist inzwischen bekannt. Legen die vier Todesbleischützen doch mit "Infiltrate…Obliterate…Dominate" nach zwei Jahren Kunstpause, die sie aber für intensive Live-Aktivitäten genutzt haben, ihr fünftes Full-length-Album vor. Und auch diesmal erteilen sie das volle Brett. Eine Dreiviertelstunde lang wird mit zehn Tracks geballert, was das Zeug hält. Die wie das Vorgängeralbum "Premier Killing League" ebenfalls von Andy Classen fett produzierte Scheibe ist dabei soundtechnisch für das kraftvolle Hammerpaket ein Ohrenschmaus.
2 other albums by Requiem