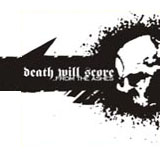 Death Will Score
From The Ashes
Released in 2006
Recorded, Mixed, Mastered
Germany
What the press has to say about From The Ashes...
In Your Face - 08/2004
DEATH WILL SCORE - das ist nun also die Nachfolgeband der Goslarer Formation DOGMA IVS. [...] Am auffälligsten macht sich das sicherlich beim Gesang, der jetzt von Giovanni übernommen wurde, bemerkbar. So klingt er eher wie eine Mischung aus Tom Araya (Slayer) und Lou Koller (SOIA) und sorgt damit schonmal für einen ordentlichen Tritt in den Arsch. [...] So dreht sich bei ihnen immer noch alles um Metal Core, der allerdings sehr fett produziert ist. Kein Wunder, wenn man bedenkt, dass Andy Classen persönlich für diese Aufnahme verantwortlich ist. [...] In den meißten Songs entdeckt man nun neben Double-Bass Parts und Mosh-Gitarren auch mal die ein oder andere theatralisch anmutende Melodie und beim Titel-Track hat man sich sehr stark an Bands a la Killswitch Engage oder Poison the Well orientiert. Das tut der Scheibe gut - lockert sie auf!