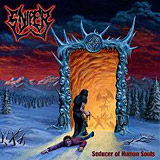 Sniper
Seducer Of Human Souls
Released in 2006
Mixed, Mastered
Germany
What the press has to say about Seducer Of Human Souls...
Rock Hard - 12/2006
Mit einer sehr guten, dezent klinisch klingenden Produktion ausgestattet haben Sniper mit "Seducer Of Human Souls" einen richtigen Vollgashammer am Start. Kein Wunder, wenn man bedenkt, dass Andy Classen hier an den Reglern saß. [...]
Metalstorm - 09/2006
Niemand geringeres als Andy Classen, sowieso vielleicht momentan der beste Produzent, zeichnete sich für das Mastering und das Mixen der Platte aus.
Metal Dungeon - 08/2006
So ist es auch nur angemessen, dass die Mädels ihr Scheibchen bei Meister Classen (Krisiun, President Evil, Disbelief, Tankard, etc.) haben mischen und mastern lassen. Unnötig zu sagen, dass das Teil alles wegbombt, was sich nicht bei drei in den Bunker verpisst hat.
1 other album by Sniper